Welcome to Texas River Company!
San Antonio's Friendliest Kayaking Outfitter
Open 7 days a week 365 days a year with reservations
Please call ahead before heading out to the park to ensure we are open and on-site. Thank you!
Coming Events:
Please scroll down for more exciting information about up coming events happening soon!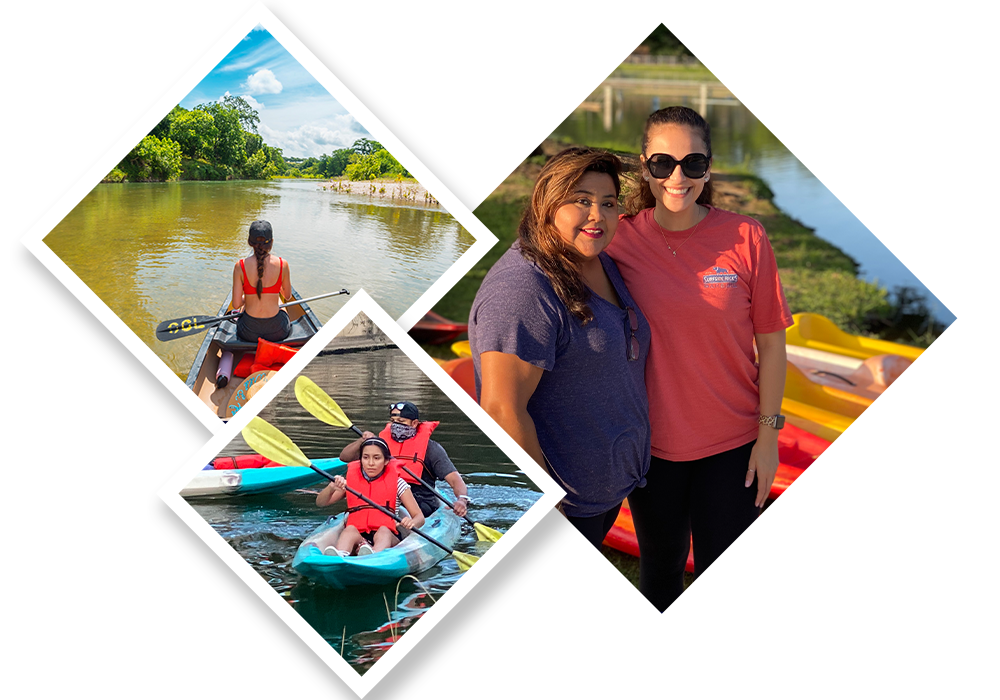 Come Paddle the San Antonio River!
Fun Kayak Rentals!
Welcome to Texas River Company! San Antonio's friendliest kayaking outfitter. Born on the banks of the Guadalupe River in 2017 from 2 guys' love of adventure and the water, Texas River Company strives to provide exceptional customer service here on the lower downtown San Antonio River Mission Reach area starting at Roosevelt Park. With over 60 years of combined kayaking knowledge; Texas River Company stands out for its commitment to service excellence for all your kayaking adventure fun. Kayaking is meant for everyday people like you and me, newcomers, first-timers, novices, everyone! So, come on out and paddle with us today!
Featured San Antonio Kayak Rentals
Here at Texas River Company we offer commercial grade Jackson sit-on-top kayaks for our river paddling adventures. We have single and tandem kayaks available. A single kayak holds one person while a tandem kayak holds two people. These kayaks offer our guests the best way to enjoy the river with their very easy to paddle design and without the worry of tipping over too easily. Every kayak will tip if you lean too far one way or the other; there is no getting around that fact. But because of their unique design being wider, longer and heavier, these kayaks are far more forgiving, safer, and all around more new user friendly than traditional sit-in kayaks and that is why we use them here at Texas River Company.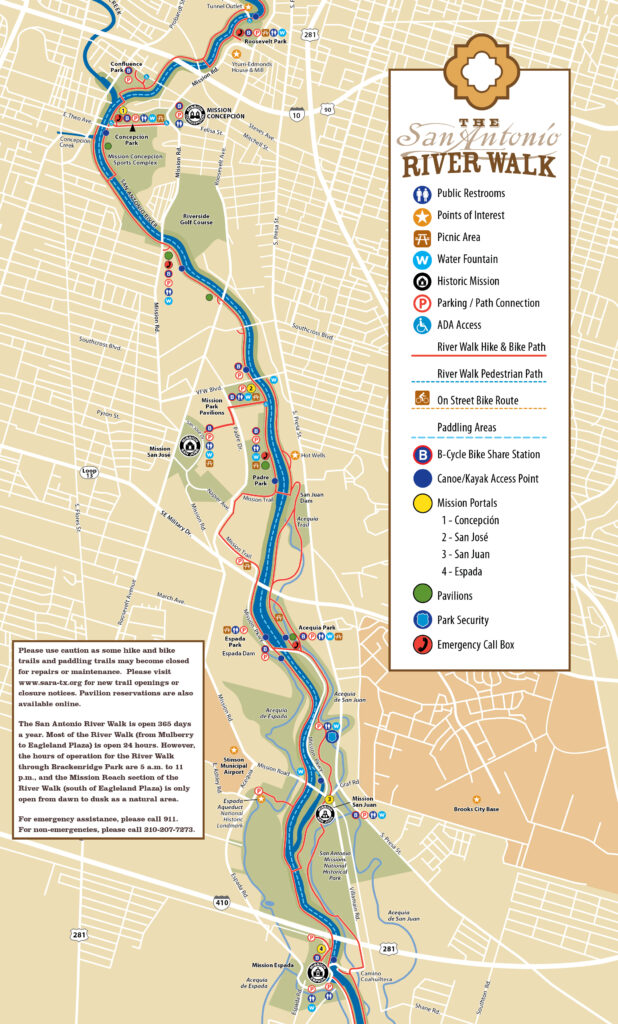 Our Adventures
We currently have 2 paddling adventures available; a 1 or 2 hour trip from Roosevelt Park up to the Blue Star District and a 4 hour trip from Roosevelt Park to Espada Park.
The adventure from Roosevelt Park to the Blue Star District is a very laid back, chill, and relaxing 1.2 mile round trip paddling session. You will navigate your way north on the very calm waters of the San Antonio River through beautiful native trees and see many different kinds of wildlife like geese, ducks, turtles, egrets, herons, lizards, frogs, and of course fish. Once you make your way up to the Riverwalk Stepping Stone Bridge you'll turn around and head back south down to Roosevelt Park. This trip can be done in an hour if you are trying to be timely about it, but most people spend a couple hours in this section. Guests commonly hang out in the water listening to music; toss the football back and forth, or even bring a fishing rod along to see if they will catch anything. All in all a nice little 1 to 2 hour retreat from the everyday grind.
The adventure from Roosevelt Park to Espada Park is a 4 hour one-way 6.5 mile trip. You will navigate the river south of Roosevelt Park and enjoy 20+ kayak chutes to cruise through on the way down to Espada Park. This kayak experience is available to anyone who wants a true "adventure". Because of the nature of this type of cruise; during different times of the year and depending on the flow of the river; there may be instances you have to portage your kayak to keep moving along down the river. There may be a few instances of getting in and out of the kayak on this trip. There may be rocks and low spots to name a couple of obstacles to navigate through on this run. This trip is not hard by any means; it is meant for people who just want a bit more of a challenge than just your average normal every day. As with the other adventure we offer you will see lots of wildlife and see many different parts of the Mission Reach area of the San Antonio River.
*The cut-off time for reserving the 4 hour trip is 12pm. As a vendor on the San Antonio River we are only allowed so much time during the day to have guests on the water.
*For this trip you will need transportation once you arrive at Espada Park since it is a one-way trip from Roosevelt Park. No need to worry about the rental equipment, we will pick it up.
*There is a $30 fee for any broken paddles returned
Portaging
In the instance you are stuck on a rock or are in shallow water it may be necessary to get out and move the kayak off the obstacle or to drag it off until you are clear further down the river; please be mindful that the paddles are not shovels and will not help you if you are stuck. They will simply break off and you'll be up a river without a paddle…. Literally. The paddles that are provided do their intended job just fine with no issues 95% of the time. Using them in a manner other than as a paddle will cause damage or breakage and make for not a fun time on the water.
The single kayaks have a dry weight of 60lbs and a weight capacity of 300lbs. The tandem kayaks have a dry weight of 80lbs and a weight capacity of 450lbs.
*There is a $30 fee for any broken paddles returned
Clothing and Items
It is important to be prepared for your adventure out on the water. We recommend clothing and footwear that is okay to get wet in; a good hat, sunscreen, snacks, water bottle, waterproof bag for personal belongings such as your phone, Bluetooth speaker etc.
Kayak Adventure Pricing
*There is a $30 fee for any broken paddles returned
We offer 1, 2, and 4 hour rentals for our single and tandem kayaks. If you have questions about rental rates or any other services we offer in San Antonio, please call us!
All our prices include the kayak rental, life jacket, paddle, and launch/egress assistance.
Kayak Lessons
We offer kayaking lessons to those that are a little apprehensive about water and tiny paddle-crafts. It is kind of like riding a bike in a way; only difference is the landing is softer in the water.
Group Events
We love doing group events such as family reunions, corporate events, team building events, women's events, men's events, birthday parties, river cleanups, office parties, holiday parties, just to name a few. We can also travel and bring the party to a river near you! Please call us for more detailed information.
Children
Children are able to go on the kayaks with their parents and there is no age restriction. You the parent know what your child can handle better than we ever could; so we leave the discretion up to the parents. Parents with children 12 years old and under will need a tandem kayak rental. One thing to know (from our experience) is that most children 12 years and under can only handle about an hour out on the kayaks. Nearly all guests with small children come back in an hour or less for "reasons". We have some child size US Coast Guard approved life jackets available for guests with small children.
Pets
Texas River Company is pet friendly, please feel free to bring along your fur-baby or other pet you may have that would fit in the kayak with you on your river adventure.
Scheduling
Please call us before heading out to the park to ensure that we are open and on-site. Thank you!
We are open 7 days a week 365 days a year with reservations. Because you never know when that gotta go kayaking urge is going to hit. We are open from 8am-5pm daily meaning that our phones are answered during normal business hours. If you happen to call and we do not answer during the normal business hours, please leave a message and we will get right back to you as soon as we can. We can also receive text messages to the phone number listed.
Normally we are on site by reservation only which means that if we are not at the park; we did not have reservations to open up shop. Monday-Friday we do the larger group reservations of 6 or more guests only. We apologize for the inconvenience this might cause, but we have to have a minimum number of guests to open up during the week. On Saturdays and Sundays this is not a problem since it is the weekend when everyone is out and about. If we happen to be out at the park any day of the week and you happen to be passing by, we would be happy to assist you at that time as long as we have the kayaks available and are not already reserved.
We typically operate the paddle-crafts between 8am-3pm. During the heat of the summer months here in south Texas on days when we frequently hit 100+ degrees; we only open up from 8am-12pm to keep everyone safe from heat related injuries.
Weather
Weather for the most part is different than what is forecast. This is south Texas after all; where the weather is made up and the forecast doesn't matter… We have had beautiful days of weather even though storms are predicted. It is best to call ahead in the event of bad or predicted bad weather and in the event of a major rain storm, please call to verify that we are out and on-site. On days with light rain or drizzle, we are normally open with reservations.
Upcoming Events
Here at Texas River Company we have some events that provide you with different ways to interact with the San Antonio River and community. Keep coming back to see what is happening and how you can take advantage of our kayak rental and events in San Antonio, Texas.
Our Location
Our launch site is at the corner of Roosevelt Avenue and St. Mary's street in San Antonio Tx. Physical address is: 331 Roosevelt Ave. San Antonio Tx, 78210 There is ample parking at Roosevelt Park and the launch location is a short walk from there.
We Were Featured on KENS 5
lhttps://www.kens5.com/article/sports/outdoors/texas-outdoors/texas-outdoors-a-view-of-the-san-antonio-river-youve-never-seen/273-1c63e077-6b6c-4653-a767-a11db4deace0
Contact Us
Roosevelt Park San Antonio, TX 78210
(210) 201-6227
Monday Call to schedule
Tuesday Call to schedule
Wednesday Call to schedule
Thursday Call to schedule
Friday 8:00am – 5:00pm
Saturday 8:00am – 5:00pm
Sunday 8:00am – 5:00pm